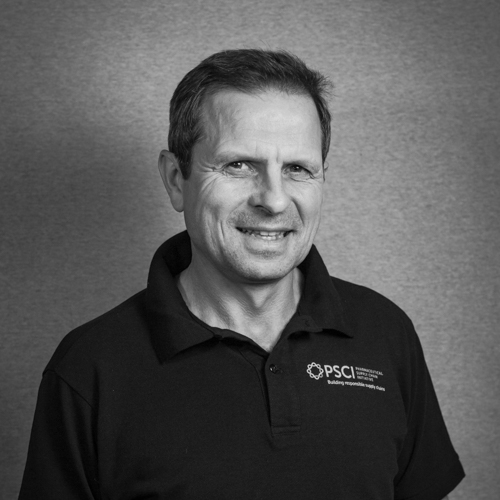 Enric Bosch
Treasurer Designate
Boehringer Ingelheim Senior EHS Manager, Supplier Qualification and Auditing
Since April 2020, Enric has been responsible for managing the supply of outsourced/purchased APIs + strategic Starting
Materials and Intermediates for BI's Chemical Manufacturing. In this role, Enric:
i) ensures an optimal supply for BI´s APIs considering different aspects: i.e. quality, sustainability, service, cost,
ii) ii) steers and supervises the external partners via Key Performance Indicators
iii) iii) ensures execution of contractual aspects by external partners.
Enric has also worked in different areas during his career:
• Corporate Division EHS &S / Senior EHS Manager – Supplier/CMO Qualification and Auditing (2012 –2020).
• Global sourcing / Sourcing manager of different categories: chemical, APIs. Packaging and CMOs (2009 – 2012).
• Team leader sourcing Pharmaceutical and Chemical plants in Spain (2001 – 2009).
• Local Quality control / Method development and validation (1997 – 2001).
Enric has focused his career in developing satisfactory relationships with suppliers involved in the pharmaceutical/chemical
supply chain and is passionate in including the sustainability topics in those relationship.
I joined the PSCI as a Senior EHS manager for Boehringer Ingelheim in 2013. My task at that moment was to develop a
program to identify and mitigate the risk associated with sustainability aspects within our 35,000+ suppliers.
This was a real complex challenge, and to see the progress, it takes time and commitment of our internal stakeholders. So, I
realized that a platform with strong collaboration across the industry will be the tool to do so. For me, that's what the PSCI is all
about. It's working with likeminded colleagues who are passionate about solving sustainability issues and adding value through
activities resulting in more sustainable supply chains. [....]
On a personal level, I am very proud to be part of the PSCI and what we are contributing to the sustainability in our industry. [...] Being part of PSCI, reminds me, that I need to always find responsible and
sustainable solutions for my work and for my private life.