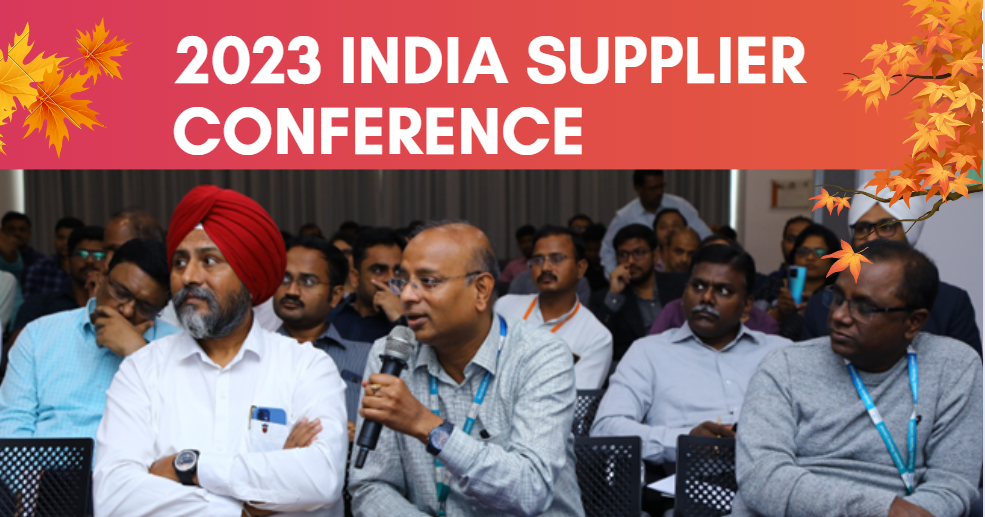 Conference | 13–15 Sep 2023
YOUR CHANCE TO LEARN THE LATEST OF SUSTAINABLE DEVELOPMENT IN THE PHARMACEUTICAL AND HEALTHCARE SUPPLY CHAIN
The India Supplier Conference in 2022 was a huge success. In 2023, the PSCI continues to offer this opportunity for suppliers to share knowledge, case studies, and experience through exchange with member companies, industry peers and expert organisations.
Kindly note that this is a Face-to-Face event and virtual attendance is not an option. Attendance is free of charge, however, registration is required. Please follow the steps below to register for the event.
Date: 13th, 14th, 15th September
Time: 9:30 -17:30
Language: English
Location: Marigold by Green Park, Begumpet Hyderabad
How to register: click 'REGISTER NOW' below to select and sign up for the sessions (days) of your choice. Below you will find detailed agenda of each day.
if you have a PSCI user account, please log in first and you information will be filled in automatically.
You are welcome to share the event with your colleagues from EHS, HR and Management teams.
Attendance cap
To ensure good delivery and interaction of the event, we may cap the maximum attendance and the number of participants from one company for each day. For us to record the exact number of attendees for each day, if you only plan to attend one/two day(s) of the conference, please register for the respective sessions only. You will find the agenda for the three sessions (day 1, day 2, and day 3) below.
We are collecting suggestions on preferred supplier conference locations for 2024 PSCI India Supplier Conference. Please leave a comment if you have suggestions
Sept 13: Management, business, strategy and HSE
13 Sep 2023 09:30–17:30 New Delhi
Audience: Recommended for Management, business, strategy and HSE professionals
Tentative Agenda:
Welcome from India sub-team leads and updates
Essential Elements of Management System
Case study - Aurobindo EHS management systems
Waste Management: Becoming Land Fill Free
Water risk and business continuity
Anti Microbial Resistance (AMR) standard & Certification
Removing Barriers to Renewable Energy for Indian Suppliers
Energize: Panel Discussion
Sept 14: Safety, Process Safety, Industrial Hygiene
14 Sep 2023 09:30–17:30 New Delhi
Audience: Recommended for HSE professionals
Tentative Agenda:
Warehouse safety
Incident Investigation Done Well
Panel Discussion / Supplier Engagement Session
Thermal and powder safety testing and interpretation
Process safety Management: Case Studies and Learnings
Selection of Industrial Hygiene Controls based on Occupational Exposure Banding (OEB) and Exposure Monitoring Level
Sept 15: Human Rights, Labour & Ethics
15 Sep 2023 09:30–17:30 New Delhi
Audience: Recommended for Human Rights, Labor, Ethics professionals
Tentative Agenda:
Tackling excessive overtime
Business Integrity and Fair Competition
Effective complaint mechanisms
Gender equality in the workforce
National Human Rights commission
This event is in the past
Ethics
Human Rights & Labor
Health & Safety
Process Safety
Environment
Management Systems
Waste Management
Pharmaceuticals In The Environment
Anti-Microbial Resistance