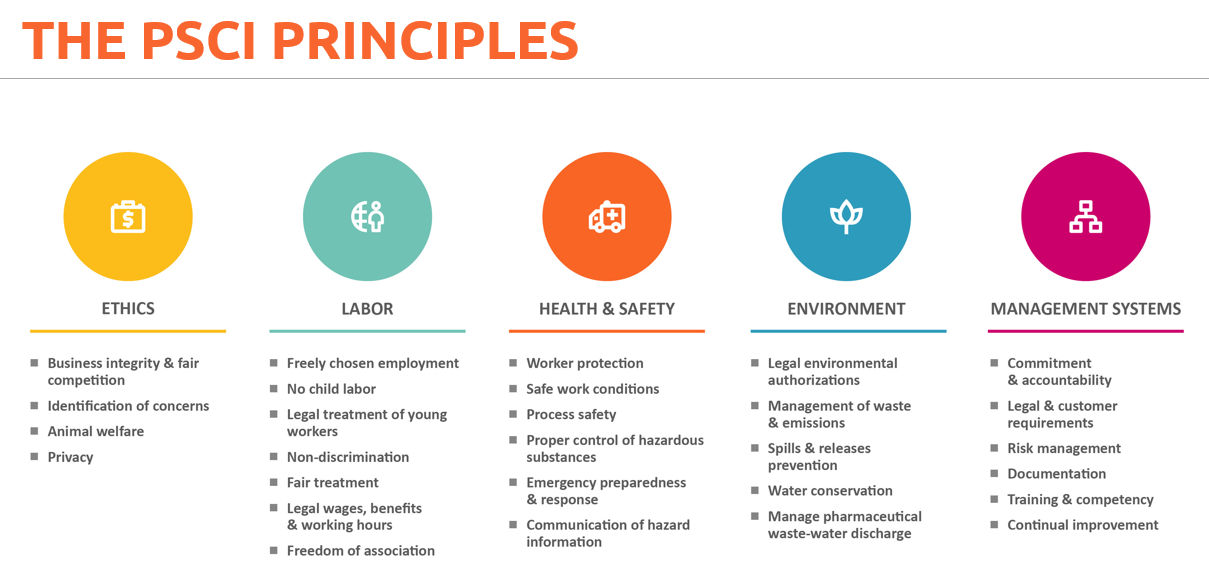 24 Dec 2019
We are pleased to launch the lightly refreshed PSCI Principles. The Principles underpin the work of PSCI, and form the basis of our mission. As such, we encourage all members, suppliers, and auditors to ensure they understand and are familiar with them.
The Principles have been in place, in their original form, since they were agreed by PSCI's founding members in 2006. This is the first time they have been updated, and the refresh was motivated partly in recognition of the need for periodic review. Additionally, inputs from stakeholders during the 2018-2020 Strategy Review, and from the Advisory Panel, indicated the need to update or add wording on certain issues and topics.
The refresh followed a consultative process, with member feedback invited, and culminating in a formal vote including all members, which took place at the AGM in Fall 2019.
The refreshed Principles take effect for members from 1st January 2020. To ensure the Principles are reflected in member practices, the first accountability questions will be in the annual member accountability survey, due in September 2020; any non-compliance to the refreshed Principles will be raised during member calls taking place in February 2021.
The more significant changes to the Principles are highlighted below:
Strengthened references to human rights, and emphasized PSCI's commitment in this area

Adoption of the UN Guiding Principles on Business and Human Rights (UNGPs) as the internationally agreed standard for the corporate responsibility to respect human rights

Strengthened content on anti-bribery and corruption, data protection, freely chosen employment, and health & safety

New clauses on patient safety, conflicts of interest, resource management and sustainable sourcing.
As ever, the Principles are made available freely and publicly to anyone with an interest in responsible supply chains for our sector. To view the Principles, visit them in our Resources library.
Translated versions of the Principles in key languages will be made available in Spring 2020.
Any comments to the refreshed Principles, or their implementation, should be submitted to the Secretariat.